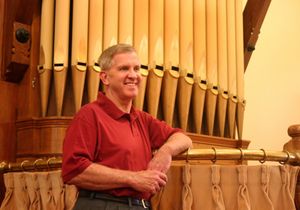 ---
Hello,
My name is John Ogrodowczyk. My wife, Diane, and I are now living in Florida after spending 42 years in Hollis, NH. We live at Kings Ridge Community in Clermont, FL and we're lovin' every minute of it!
I think of myself as an Irish tenor, mostly because that's what people say about me when they hear my voice, but also because I have been deeply attracted to singing Irish ballads.  So, I'm known as the Irish tenor with the Polish name.
I began my singing "career" about the age of 5, when I sang with my Uncle "Yodllin" Ed, a cowboy singer, who also taught me how to yodel with him. It wasn't until high school, when I sang my first principal role in the operetta "The Student Prince", that I really got the bug for the classical voice.  I listened to every opera album I could get my hands on and learned all the Italian tenor arias.
Even though my job career has spanned several decades in science and computers, my love for singing has aways been my passion. I've performed in many venues including opera, musical theater, concerts, and shows at home and in Europe, including Ireland, where I developed my special love for Irish ballads.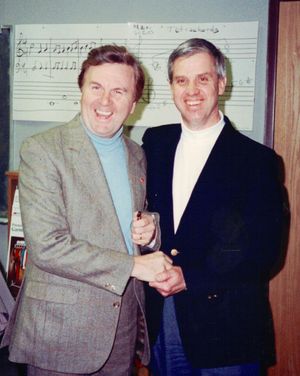 The late Irish tenor, Frank Patterson, was a huge inspiration to me. I attended many of his concerts in the late 90's while we lived in New Hampshire, and actually got to meet him and his family after each of his shows. Read more about My Story with Frank Patterson on the Music page and check out the photo here of Frank and me taken in 2000.
I've recorded several albums (see the Music page) and have had the unique privilege of singing several times at Fenway Park for the Boston Red Sox. What a "ball" that was!  Watch these movies on the Videos page.
Currently, I am singing at many community events and shows at the Kings Ridge Community throughout the year. Just two weeks after we moved in I was performing a pre-show at the Moonlight Playhouse in Clermont for their musical "1776" the whole month June.  In addition, I have sung at the Clermont Performing Arts Center in a show dedicated to Veterans. I recently I formed and now direct the Veteran's Glee Club at Kings Ridge.
I invite you to check out my Music and Videos and please sign up to my Mailing List. Also, please visit the Nancy O Fund page, a non-profit fund created in honor of our daughter Nancy. This fund gives grants to non-profit organizations supporting children's performing arts programs. I would love it if you would consider helping me with this cause.
Thank you all,
JohnO
Singing at Fenway Park
The Mystery unfolds in really surprising ways.  One Thursday in June, 2007, four days before Father's Day, one such surprise came out of nowhere. A simple phone call arrives and five hours later I am officially asked to sing the National Anthem and God Bless America at the Boston Red Sox game at Fenway Park that following Sunday. In front of 37,000 fans, this was indeed a thrill of a lifetime.  Since then I was invited to sing two more times for the Red Sox. You can view the videos. This is a typical example of my faith journey. I look for surprises every day. 
 
(The announcer's introduction over the loudspeakers)
"Singing the Anthem today is a singer of Irish ballads, who, even though is of Polish ancestry, recognized his love of Irish music at an early age and has released a CD titled "Ireland In My Heart."  He is also a father who lost a daughter in 1994 and keeps the memory of his daughter alive by performing to benefit a charitable foundation for needy children in his daughter's name. Please welcome from Hollis, New Hampshire, John Ogrodowczyk."